Of course UFS's big brother0 quit in 2005/6, and the "inventor" works on footwear now.
Apparently a commercial spec sheet was never released1 for what the Universal Frame System would consist of, and parts labeled UFS often require modification to be compatible with other "UFS" parts: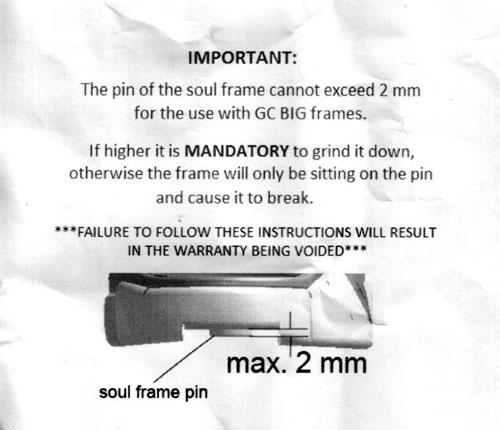 Interested parties generally always refer back to Salomon's UFS patent filed in 2001, we'll call this Borel's Law: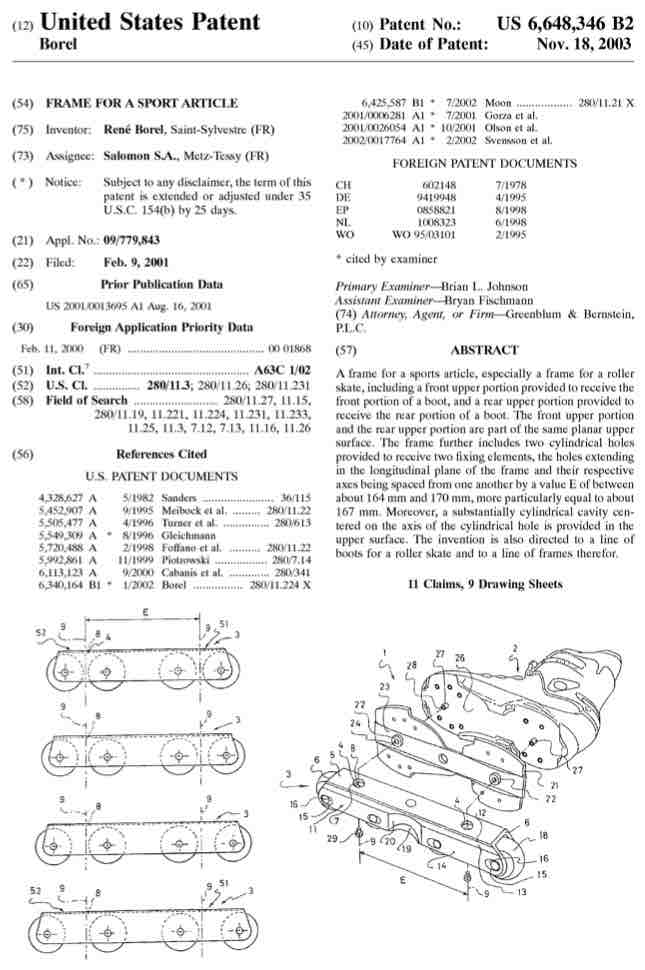 And shucks, nobody really cares about any of this except for the distance between mounting bolts and those nub-pin-"cavity" thingies [which inconveniently, aren't explicitly defined in the patent...].

If we're to apply this literally and minimally (like some manufacturers), UFS is only two things:

1-A distance of "about 164mm and 170mm between two cylindrical holes" on the same plane
2-"Two cylindrical cavities [axially] centered on the cylindrical holes"

Sure, there's other extraneous nonsense in there about frame length and mounting perpendicularity, but it's mostly redundant stuff that goes without saying.

Manufacturers aren't really to blame for minor blights of incompatibility, either: they've just been following Salomon's vaguely written rules since ~2001.

So you wanna push the limits of UFS without breaking spec?

5cm deep cylindrical mounting cavities? That's fine: just be sure to center them.

3 rows of wheels on a 200mm wide frame element? No problem.

9 mounting bolt holes instead of two? Sure. Just space two of those holes about exactly between 164mm and 170mm apart.

0.1mm diameter mounting bolt holes? OK.

Wanna create your own backwards-compatible mounting standard superset? Check.

In practice, UFS breaks down to 167mm between two 6mm+ diameter holes. In other words, just repeatedly photocopy Salomon's Feinberg ST as originally manufactured until certain poorly drawn nub-like nuances become unreadable...they were probably just coffee stains.

Finally, after nearly 20 years of flailing implementation, I give you the specifications for manufacturing a fully practically compliant UFS frame chassis element!

Outlined below as follows:
1-two 6mm holes spaced "exactly about" 167mm apart
2-with level mount contact surfaces (note: mounting point surfaces need not continue for the full length of the frame)
3-no wider than 41mm
4-with 3mm deep soul "pin"/"nub"/"cylindrical fixing element" cavities 20mm in diameter, axially centered on the (1)6mm mounting holes

If it doesn't meet these criteria, it ain't really UFS. Download this 3d vector file to start using the standard today: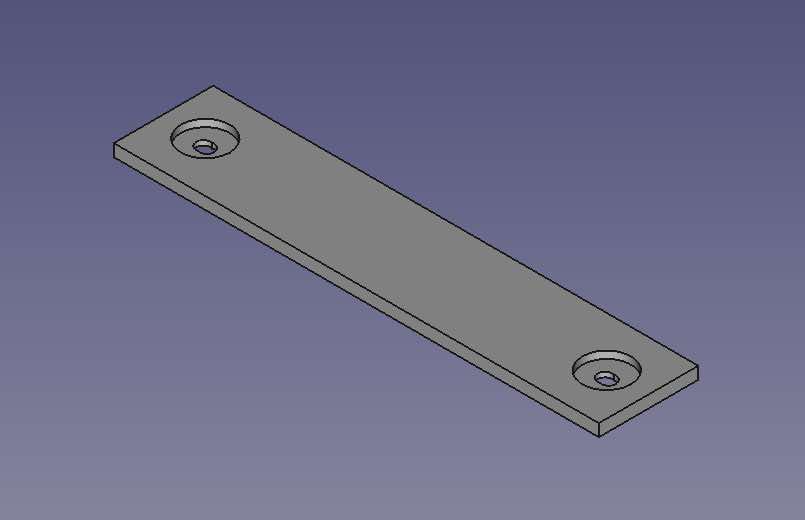 Salomon, the ski guys who forged the fabled boots of lore (at their Romanian plastic pouring partner's facility) also dumped grindplate sales lock-in gimmickry on us a few seasons before rushing to the exit in light of dipping numbers. ↑


Not even to the UFS manufacturing launch partners! ↑